FIFTEEN Years! Yes, that's how long we've been waiting for a book featuring the incredible art of Jesper Ejsing! But let's start where it all began… So, the place is Denmark, the year is 1986 and the day is Christmas Eve. Thirteen-year-old Jesper, inspired by J.R.R. Tolkien, asked Santa for a Dungeons & Dragons roleplaying game. He doesn't know it yet, but at that moment, his life had changed. Forever. Skipping through the pages of the rulebooks, he set a goal for the rest of his life: he would become a fantasy artist. He would make a living illustrating things that live only in imagination… one way or the other.
After studying Danish literature and Art History for a while, he quit university for a freelance artist life. His early years as a full-time illustrator meant drawing anything for money. Soon, he weeded out the assignments that weren't historical (because hey, Viking stuff is quite close to fantasy!), and after a while, all he did was fantasy art. When he finally got his first assignment for Dungeons and Dragons, it was 20 years since that Christmas when the goal was set. He struck out on a journey, stubbornly and, at times, ignorant of the realities of life, and two decades of traveling has finally brought him home.
During his years working as an illustrator, Jesper has worked for many famous companies. Most of his fans know his work for Wizards of the Coast through his Magic the Gathering and Dungeons and Dragons artwork, but he also worked for Blizzard Entertainment, League of Legends, Paizo, Fantasy Flight Games, IO Interactive, Valve, etc… producing an incredible amount of wonderful illustrations. And 2019 is finally the year where all of them get to be reunited in a book.
Like a spell book, but better!
Jesper's work needed a shrine. Really. Not a cheap, quickly-damaged, softcover, paper book. At first, we planned to have it bound with dragon's leather and printed on baby unicorns' skin, but a recent shortage of these prime materials led us to accept a slightly more common option and use paper instead. The result is turning out GREAT! So, we're really proud to introduce you to this beautiful 400- page / 3-kilo book (if you're not using kilos, that's about the weight of a kobold head) that will be a gem on your shelves.
Enter the realm
So, what's inside? Everything! You will face dragons, roam forests with ancient elves, meet creatures you never dreamed of, fight trolls and sphinxes, share a beer with some of the mightiest warriors and explore deep dungeons. And the best part? It will all happen at home, tucked up in your most comfortable armchair while smoking some of the best hobbit pipe-weed (but don't forget smoking is bad for your health and Gandalf is a bad example for kids…).
Unfortunately, teleport spells are still tricky to master, and our wizard has failed his last incantation (we're working hard to get him into a human shape again) so, we have to use human-based postal services to deliver the book. Fortunately, we have an INCREDIBLE offer until January 31: €5 for shipping ANYWHERE on Earth (we mean this one Earth, we're not delivering to outer planes for now). Yes, you read it correctly: it's FIVE euros wherever you'd like the book shipped too. There will be no tracking available for that price and shipping time is around 10 days for Europe and three weeks for the rest of the world. We also designed a special case to protect the preciouuuus during shipping, so that should keep it safe for evil postmen (and there are a LOT out there!). And in case of trouble, just write or call us. Because we're here to answer. Real people! Isn't that just incredible? But this €5 shipping option will only be available until the end of the month. Then it will be regular shipping prices… and that's not the same cup of tea!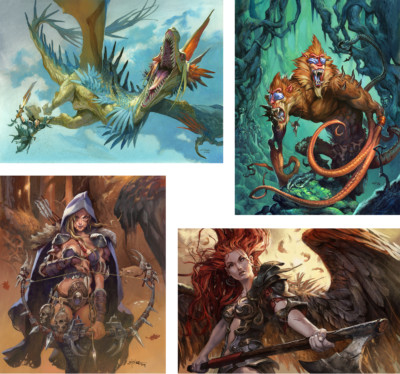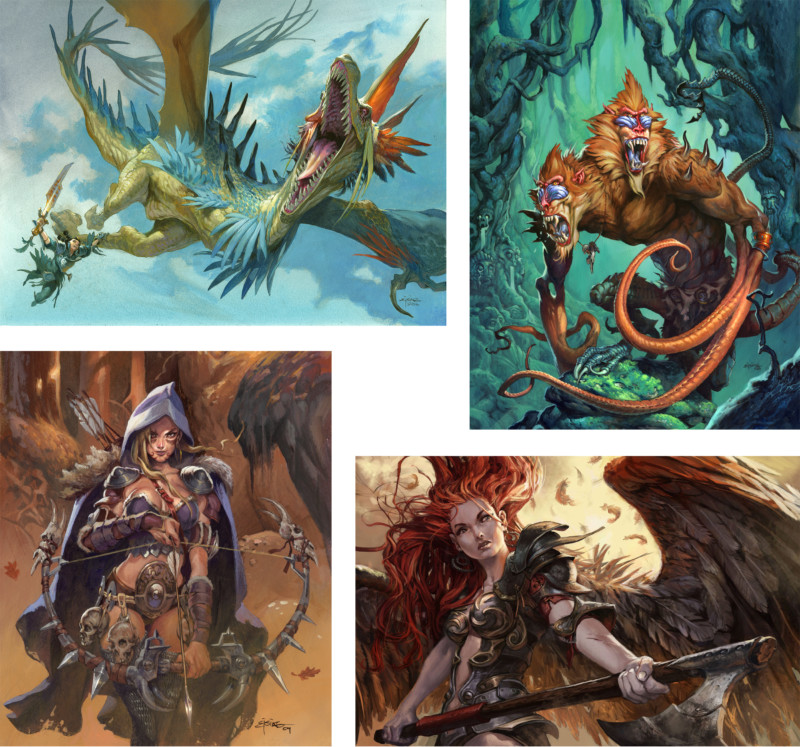 Hang 'em high! Because he deserves it! In addition to the book, we're very happy to announce that we will be printing a few high-quality posters from Jesper's art collection, and that they will all be signed and numbered. So, if you ever wanted to get your hands on a Demogorgon, that's the right time to do so ! (Details will be available from 1 February, along with buying options)
And now, for something SPECIAL
And when you think it can't get any better, then… BAAAM – it happens! Because there will be a SPECIAL Edition of ELSEWHERE. "Special? Like Special what?" Special because with Jesper, we decided to create 100 blank-cover copies of the book. Meaning one hundred copies with drawing paper instead of the standard color-printed hardcover, on which he will draw ONE HUNDRED ORIGINAL COVERS! Yes, you read this right! But for these, a little patience will be required. Because good things take time. So, if you're on for one of these unique pieces, please be aware that Jesper will illustrate them throughout 2019. They will be done in the order we receive them, and we will keep you posted on the progress of the list.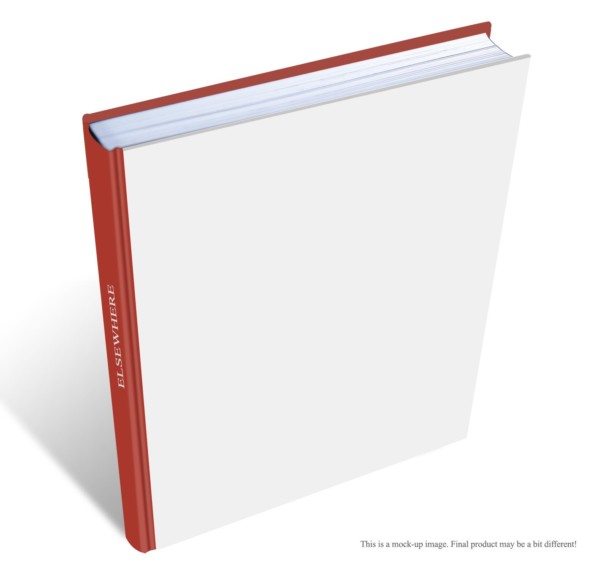 There and Back again
So now is the time when we've said enough. The journey is yours. The decision is up to you. Will you dare venture in the Fantasy Art of Jesper Ejsing? Be warned! Things are lurking out there, things that might be better left alone… Otherwise, just click the button! (and don't forget to pack some additional rations. You can never have enough of those…).
Characteristics – Classic Edition
400 pages
3 kilos
Size: 21,4 x 28 cm
Hard Cover – Color
ISBN : 979-10-96315-22-2
Price: €70
Shipping : €5 (untracked) until January 31, anywhere. Tracking option available at an extra cost.
Characteristics – Blank Cover Edition
Limited to 100 + 7 copies (for the artist and collaborators),
Numbered and signed by Jesper Ejsing
Blank Hardcover
Original drawing by Jesper Ejsing on the front cover
Same content as the Classic Edition
ISBN: 979-10-96315-32-1
Price: €300
Insured and tracked shipping only (not included)
All these images wouldn't be here without the companies that have hired Jesper over the years,and more precisely Wizards of the Coast, Blizzard Entertainment, League of Legends, Paizo, Fantasy Flight Games, IO Interactive and Valve. A big thank you for letting us use them in this book ! (and of course, all the companies own the copyrights over the illustrations that were made for them!).