The Dude is back… with a vengeance!
…and he doesn't smoke anymore, drinks very moderately and doesn't bowl much. But he draws… and HOW !
As comfortable with pencils and brushes as with a graphic tablet, he paints with a mastery that leaves one speechless. Counting among his customers such prestigious names as Wizards of the Coast, Ubisoft, Games Workshop, CMON and Hasbro, he never satisfies himself with mercenary work and at the slightest opportunity, he draws obsessively. Diving headfirst into his sketchbook without so much as a safety net, he brightens its pages with incredible sketches… to our greatest delight!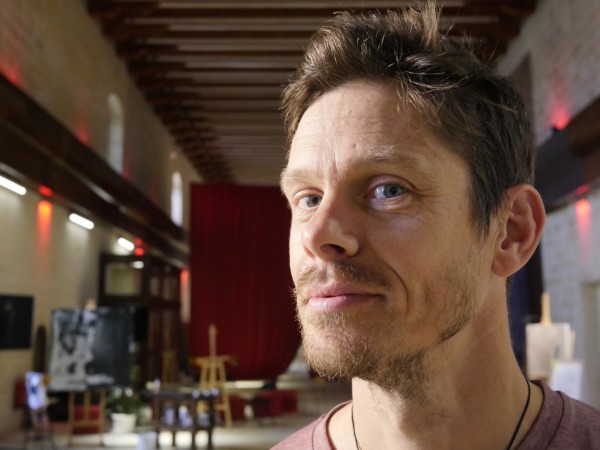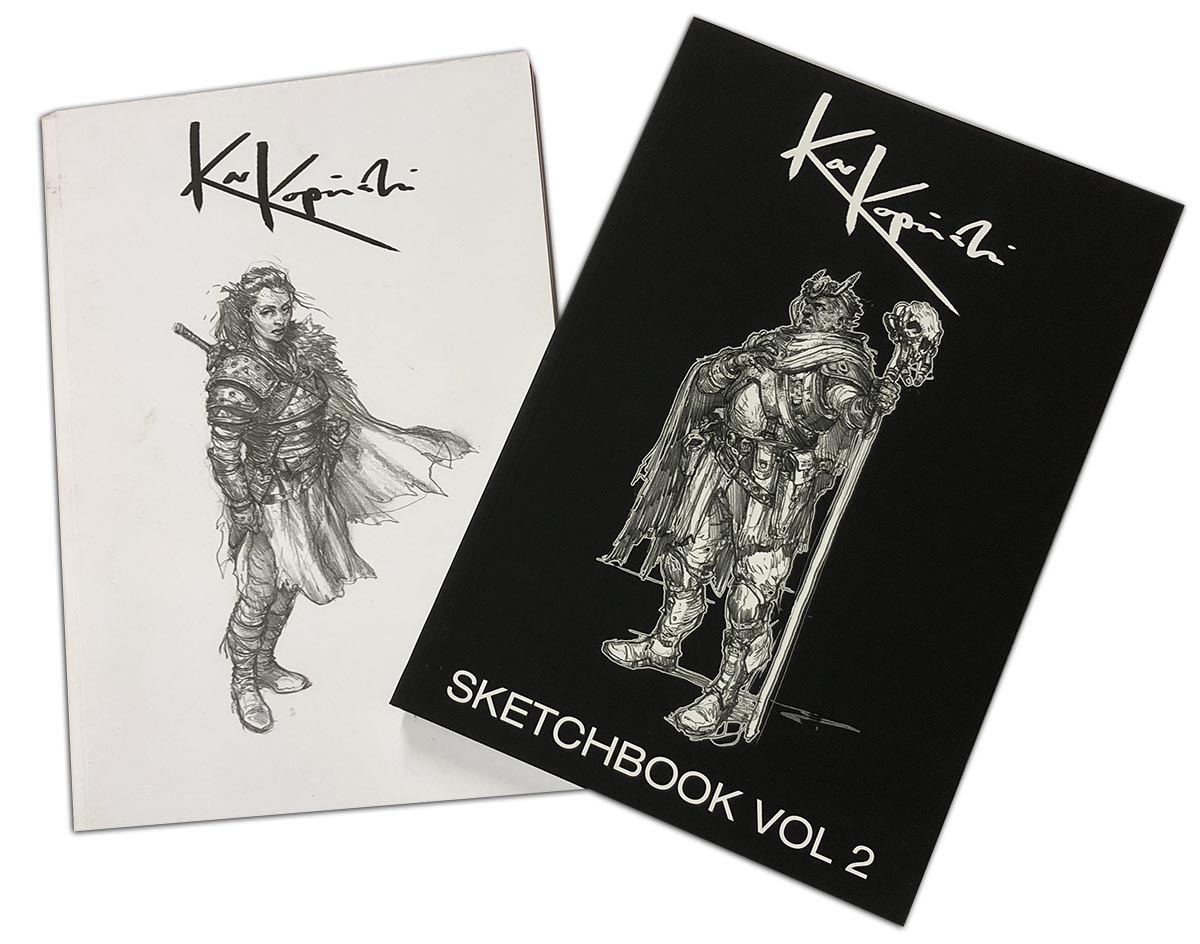 Today, we are very pleased to announce that after several months of editing, the first BIG KOPINSKI sketchbook is ready to hit the shelves.  What we're talking about now is 296 pages full of sketches; black and white (mostly) and colors.  Some were published several years ago by Karl himself  in the first two volumes of his soft-cover, self-edited "Sketchbooks" (see pictures on the left) but these unfortunately have been sold out for a long time, which really is a pity.
So, to our greatest pleasure, Karl entrusted us with the project of reprinting the content of his two first books, all cleaned up, along with many brand new illustrations, and wonderfully wrapped up as a beautiful hard-cover coffee-table book.
For those of you who are familiar with our production, it is the same size and make as the Kim Jung Gi or Jesper Esjing books.
In a word: an ESSENTIAL book!
Be warned: diving into this book (and therefore, into Karl's mind) is a dangerous journey! It is full of warriors, goblins, dragons, vikings, pirates, swashbucklers, soldiers, Indians, cowboys, samurais, thugs, bikers, super-heroes, astronauts, plus a few zombies. 🙂
As publishers and as illustrations enthusiasts, we LOVE Karl's work. And his raw sketches are among some of the most interesting works we have seen. They radiate power and energy. Most of them have been made for the sheer pleasure of drawing, straight from their creator's mind onto paper, and in that respect, they are the consummate collection of an artist delighting in his own unfettered creativity.
With such a HEAVY book, what about shipping?
Well, first, we use really good protection when we send the books, because we hate to receive damaged ones ourselves. And we all know that some of the postal service employees handling parcels are as delicate as raging orcs on a spree! You wouldn't believe the photos that a few customers have sent us! Anyway, all this is to assure you that we know the damage potential to our precious cargo and we take all precautions possible to protect the books.
But what about the cost then?
Fortunately, we have an INCREDIBLE offer for the pre-order phase: €5 for shipping ANYWHERE on Earth.
Yes, you read it correctly: it's FIVE euros no matter where you'd like the book shipped. However, there will be no tracking available for that price and shipping time is approximately 10 days for Europe and three weeks for the rest of the world.
Isn't that incredible? But this €5 shipping option is available only until Feb. 28th, then it will revert to regular shipping prices. So, don't miss out on this opportunity!
And in case of trouble, just write or call us. Because we are here to answer and reply. Real people, really!  (Also incredible!)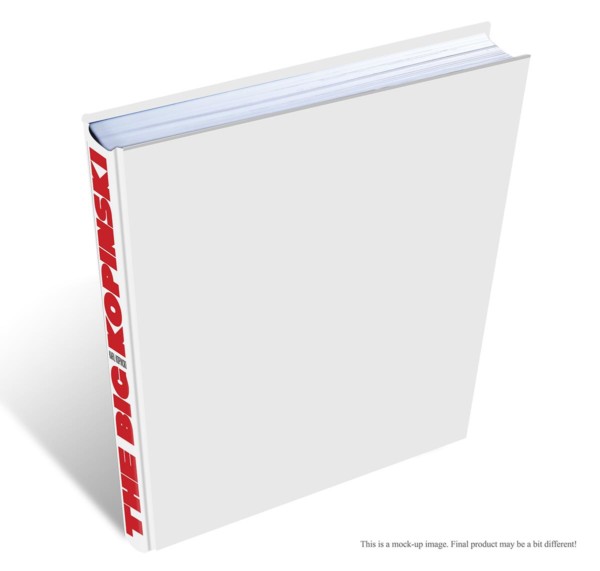 And now, for something SPECIAL
And when you think it can't get any better, .… BAAAM – it happens!
Because there will be a SPECIAL Edition of THE BIG KOPINSKI
"Special? Like what kind of Special?"
Special because with Karl, we decided to create 100 blank-cover copies of the book. Meaning one hundred copies with drawing paper instead of the standard color-printed hardcover, on which he will draw ONE HUNDRED ORIGINAL COVERS! Yes, you read this right!
But for these, a little patience will be required. Because good things take time. So, if you're on for one of these unique pieces, please be aware that Karl will illustrate them throughout 2019. They will be done in the order we receive them, and we will keep you posted on the progress of the list.
This beautiful book is now available and we will start shipping around Jan. 29th (because in the meantime, the office will be closed and we will all be in the Angoulême Comic Festival). So, don't hesitate to order your copy today by clicking the Big Kopinski green button below. Believe us, this is a book you want to have in your collection !
Also, permit a publisher's suggestion: if you enjoy Karl's work, be sure to have a look at the other sketchbook we just published: ELSEWHERE by Jesper Ejsing. We are really proud of this one too!
Characteristics – classic Edition
296 pages printed on deluxe Munken Pure 130 gr. (B&W pages) and Condat Mat Perigord 135 gr. (color) papers

1.5 kilos

Size: 21,4 x 28 cm

Hard Cover – Spot varnish

ISBN : 979-10-96315-17-8

Price: €70

Shipping : €5 (untracked) until Feb. 28th, anywhere. Tracking option available at an extra cost.
Characteristics – Blank Cover Edition
Limited to 100 + 7 copies (for the artist and collaborators),

Numbered and signed by Karl Kopinski

Blank Hardcover

Original drawing by Karl Kopinski on the front cover

Same content as the Classic Edition (296 pages, Black & White + color, 1.5 kilos)

ISBN: 979-10-96315-34-5

Price: €300

Insured and tracked shipping only (not included)